Go to Summary

Environmental responsibilities
Genève Aéroport is an urban airport. It must take into account the interests of users, the economy of the region and the impact on local residents and the natural environment. Aware of the nuisance caused by its activities, it is multiplying its initiatives in favor of environmental protection.
Limiting noise pollution
Air traffic noise is one of Genève Aéroport's major concerns. Despite a year 2021 still impacted by the pandemic, it has maintained its actions to contain the noise impact of airport activities.
Sound footprint: encouraging results
As a result of COVID-19, the years 2020 and 2021 were special years, marked by a significant drop in air traffic (-53.6% of movements in 2020 and -46.6% in 2021 compared to 2019). Logically, the noise impact linked to the operation of the platform has followed the same trend. Statistically, these years cannot therefore be considered as significant years.
Between 2020 and 2019, the surface area of noise-exposed areas had decreased by 21 km2 . The decrease in air traffic due to the health situation helps to explain this result, in particular the drop in night-time movements (-71.7%). This result is the corollary of an unsustainable and strongly deteriorated economic situation.
Between 2021 and 2020, the surface area of noise-exposed areas has increased by 2.9 km2 , due to an increase in air traffic (+14.9% of movements in 2021).
Despite the health and financial crisis, actions to protect local residents did not stopped. Here are the measures in place to limit the platform's noise footprint:
Flight restrictions after 22:00
At present, scheduled flights are allowed to take off from the runway between 06:00 and 12:30. For several years, Geneva Airport has been restricting take-offs from 22:00. Only a maximum of three intercontinental flights can be given a departure slot after 22:00.
"Legally, take-offs until midnight are allowed. In practice, Genève Aéroport restricts them in order to protect local residents."
Furthermore, for some years now, counter-landings and take-offs have been limited to a maximum after 22:00. in order to protect local residents.
Since the 1970s, airlines have been encouraged to operate the most modern (and therefore quieter) aircraft. How is this done? Through fees levied on each landing, modulated according to the noise class of each aircraft. The proceeds of this tax are used to soundproof homes in the surrounding communities.
During the crisis, airlines have been investing in the latest generation of aircraft. Class 5 aircraft, which are less noisy and also consume less fuel (Bombardier CSeries, A 320neo, A 350 or Boeing 787), accounted for 22.3% of airliner and charter aircraft movements in 2021, compared with 18.7% in 2019.
The two best classes (5 and 4) account for a total of 92.1% of aircraft movements in 2021.
distribution by class of noise
Scheduled and charter, passengers only
Airlines were particularly affected financially by the COVID-19 epidemic. In view of this difficult situation, as the latest generation of aircraft were favored during the crisis and the fund dedicated to the soundproofing of homes was already well endowed, the collection of this charge has been temporarily suspended for 2021 and 2022.
A320neo, a new generation aircraft
The first Airbus A320neo of easyJet Switzerland landed at Geneva Airport base in November 2021. This new generation aircraft reduces carbon emissions by 15% and noise by 50% during the take-off and landing phases. A second A320neo was delivered at the end of the year and, eventually, a third A320neo will be stationed at Geneva in 2022.
Airbus A320neo
First flight in Geneva (french)
A charge for take-offs after 22:00 is also applied. It is modulated according to the acoustic performance of the aircraft, as well as the time of departure. Nighttime movements are the most sensitive from the point of view of local residents. Their impact is considered ten times greater than daytime flights in the calculation of noise curves.
More than 4,000 homes soundproofed
The airport is surrounded by eight neighbouring municipalities. Aware of the noise generated by its activities, it has been implementing a noise abatement program for homes since 2003. More than 4,000 homes have been soundproofed at a cost of CHF 57 million.
Since the beginning of the COVID-19 crisis, the program has slowed down due to:
shortages of raw materials
delays in delivery
bankruptcies of companies carrying out the work
inability to visit homeowners, some of whom are at risk.
The percentage of soundproof buildings in the new concept is 27.8%. The program will resume more intense activity in 2022.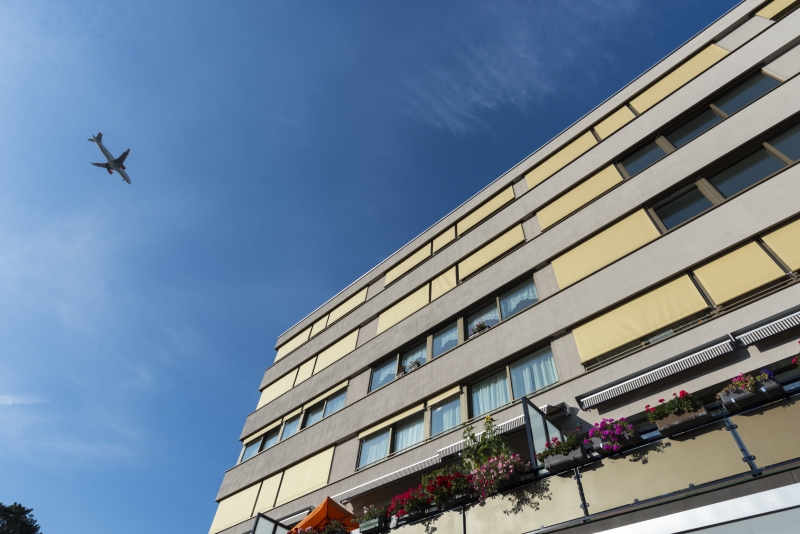 complaint management
Genève Aéroport processes requests and complaints relating to aircraft movements or hub activities. The number of complaints per plaintiffs has been reduced from 4.5 in 2019, to 20.1 in 2020 and 5.5 in 2021.
PSIA, the airport's roadmap
The airport's Sectoral Aviation Infrastructure Plan (in french PSIA) sets the framework for the future operation and developments of Geneva Airport. In 2019, the airport submitted an application to the Federal Office for Civil Aviation (FOCA) for approval of plans and operational measures. The project includes operational measures to enable the airport to stabilize and reduce its noise footprint.
In 2021, Geneva Airport provided responses to the positions taken by the authorities, the population and the communes. The file is currently under review by the decision-making authority, the FOCA.
Minimising the carbon footprint
Switzerland has committed to a significant reduction in CO2 emissions by 2030 and the Federal Council has adopted a target of zero net emissions by 2050.
For the air transport sector, the federal government's objective is to reduce emissions from international air travel from Switzerland by 2050. At the international level, the entire air transport industry is pursuing the same objective. This is the framework for the Swiss Road Map for Sustainable Aviation. In 2021, Geneva Airport and the Swiss aviation industry drew up a joint declaration of intent to this effect.
Genève Aérport has implemented numerous actions to reduce its greenhouse gas emissions. The indicators were evolving favourably before the COVID-19 epidemic (12.6 kg/traffic unit in 2017 and 11.9 kg/traffic unit in 2019). However, during the pandemic, the number of passengers and the amount of freight transported (which constitute the traffic units) collapsed, while CO2 emissions did not decrease to the same extent (among other things because the buildings still had to be heated). The ratio CO2 /traffic unit increased significantly in 2020 and 2021 compared to 2019.
greenhouse gas emissions by source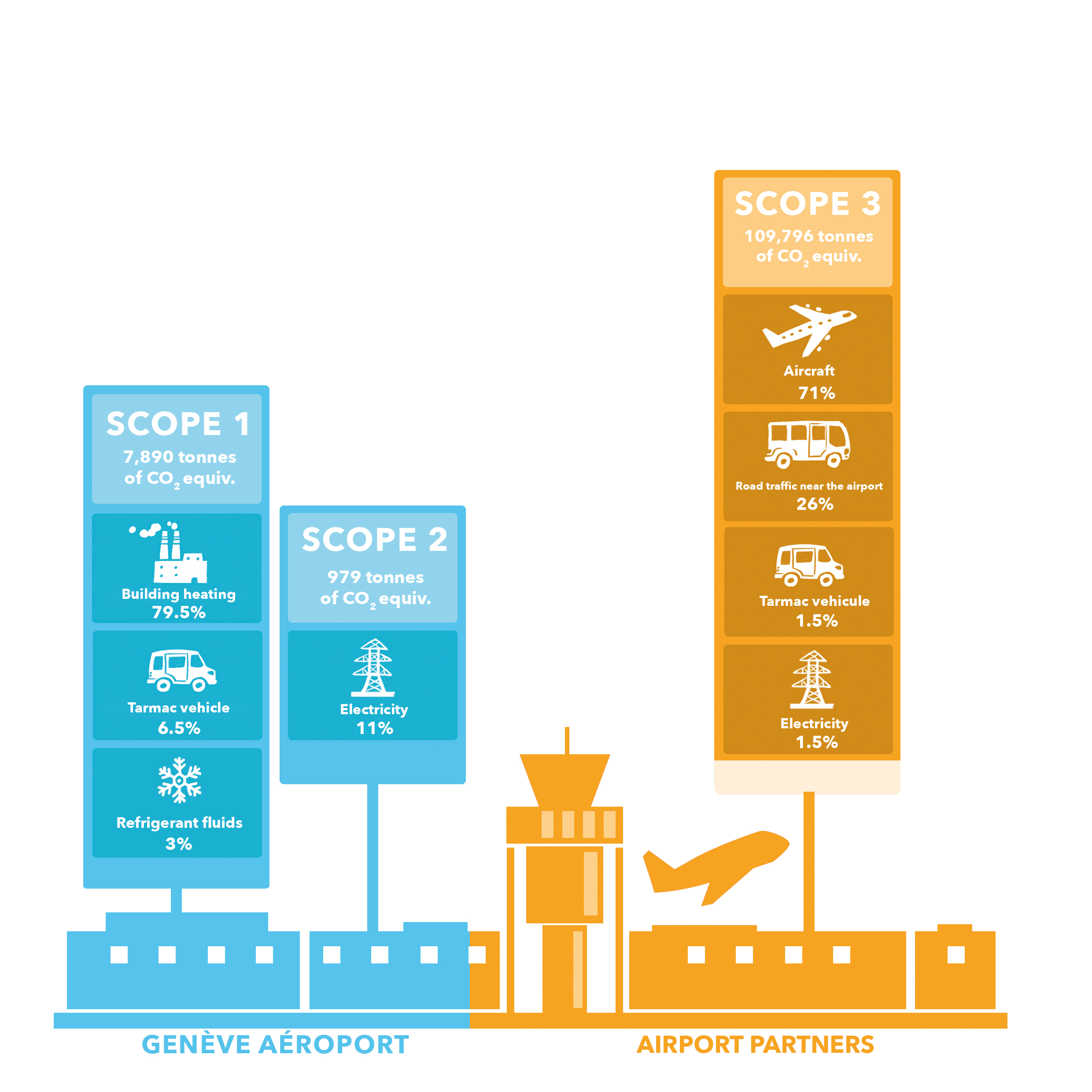 GeniLac: start of work in 2022
GeniLac is the largest hydrothermal network in Switzerland. Launched by the Services Industriels de Genève (SIG), it makes it possible to do without fossil fuels to heat and cool buildings with a sustainable and renewable resource: lake water.
Geneva Airport signed its connection to the green grid in 2019. On 22 December 2021, it received approval of the plans for the East thermal power plant. Work on the first GeniLac infrastructure on the airport site can therefore be launched in 2022. Commissioning is planned for 2026.
"Thanks to GeniLac, the airport site will no longer need to use fossil fuels to heat and cool its buildings. By avoiding the emission of 5,300 tonnes of CO2 each year, it will reduce its carbon dioxide emissions by more than half."
Genilac
Replacing fossil energy (french)
East wing: a building that produces energy
The East Wing, dedicated mainly to long-haul flights, was opened on 14 December 2021. This model building in terms of sustainable development will increase the airport's energy balance.
Here are its strengths:
Thermal insulation: high performance triple glazed facades and specific solar protection in summer.
Solar energy: 7,010 m2 photovoltaic panels installed on the roof generate electricity to cover the building's consumption of over 40,000 m2
Thermal energy: 110 geothermal probes buried under the building produce and store thermal energy. The future connection to the GeniLac network will complete this 100% renewable energy source.
East wing
Discovering the building (french)
The East Wing is a positive energy building, meaning that it produces more energy than it consumes. This is achieved through a combination of photovoltaic panels, extensive insulation and high efficiency heat pumps.
Solar panel area up significantly
Geneva Airport is installing solar panels on the roofs of its new buildings wherever possible in order to improve its energy autonomy. In 2021, the Airport will have 15,000 m2 of solar panels. This surface area will almost double by the end of 2022 with the installation of 7,010 m2 of photovoltaic panels on the roof of the East Wing and 1,500 m2 on the new baggage sorting centre. In total, almost 23,500 m2 of solar panels will be installed, for a production of 3.8 GWh/year, which corresponds to about 10% of Genève Aéroport's annual consumption.
The airport and the Services Industriels de Genève (SIG) signed a partnership agreement in 2017 to install a total surface area of 55,000 m2 of photovoltaic panels by 2030. Eventually, the aim is to produce 7.8 GWh/year of electricity, equivalent to the annual consumption of 2,500 Geneva households. This ambitious goal is still on track.
Buses powered by electricity
Geneva Airport is committed to a massive electrification of its vehicles. By 2021, 30% of the vehicles and equipment circulating on the tarmac will be electric or hybrid. Two new electric buses dedicated to passenger transport were received this year. Eventually, the fleet will consist of around 30 buses, 14 of which will be electric. This strategy aims to limit vehicle emissions on the tarmac.
In 2021, electric buses saved:
17,689 litres of fuel
46 tonnes of CO2
myclimate to offset the emissions from your flight
Since June 2021, passengers using the airport can offset the CO2 emissions of their flight thanks to a partnership with myclimate. For each offset journey, Geneva Airport will invest an identical amount. The cost of offsetting was calculated according to the average distance of short and long-haul flights from Geneva, i.e. 900 km and 4,300 km respectively. It is also possible to compensate for former flights.
Air quality: regular checks at the runway edge
Geneva Airport has an air quality monitoring station. Located at the edge of the runway in the northern zone, it monitors emissions in the airport area. In 2018, it was equipped with a device to measure very fine particles (PM2.5). In 2019, their annual average value was just below the limit value (10 µg/m3). This value fell slightly further in 2020 and 2021.
In 2021, as in every year since 2018, the limit values for fine particulate matter (PM10) and nitrogen dioxide (NO2) were met.
Controlling impacts on water and biodiversity
From glycol to tarmac to biogas
De-icing an aircraft before it takes off is an almost daily operation in winter. In practice, de-icers spray a mixture of hot water and glycol onto the aircraft in order to remove the snow or ice on it. In 2021, 1,628 aircraft (scheduled and charter flights) were de-iced in this way during the winter.
In 2021, 982 m3 of de-icing products (a mixture of water and glycol) were sprayed on the aircraft. Since the beginning of 2018, the glycol residues have been vacuumed from the ground by sweepers and then sent to the bioreactors of the Services industriels de Genève (STEP) wastewater treatment plant in Aïre for recycling. This process produces biogas. In 2021, approximately 63,500 m3 of biogas were produced.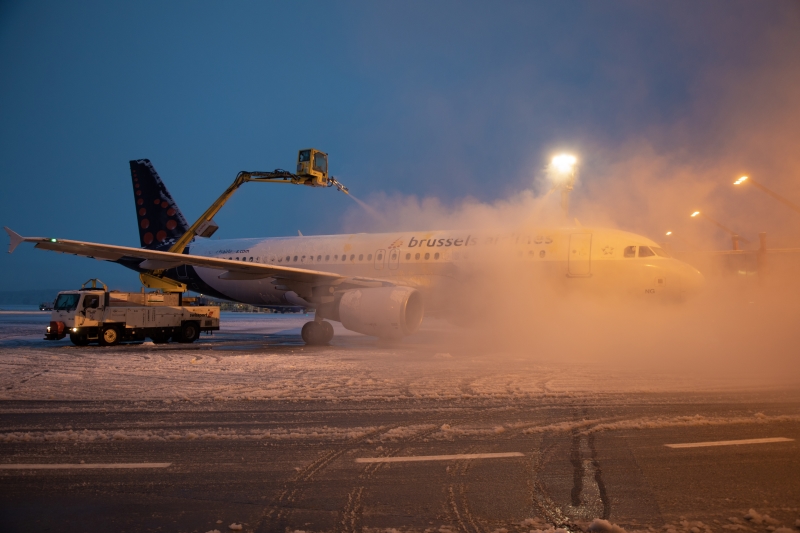 Water contaminated by de-icing products is collected through a network of collectors and stored in the Vengeron retention reservoir, located at the end of the runway, before being sent to the same treatment plant.
"This gigantic basin, the size of four Olympic swimming pools, redirected 83,127 m3 of water to the WWTP during the winter of 2021-22."
Optimizing waste management
50.4% recycled material
Approximately 1,500 tonnes of waste passed through the 5 waste collection centers and collection points managed by Geneva Airport in 2021. The source separation rate was 49.1% in 2020, compared to 46.2% in 2019. In Terminal 1, the recycling rate dropped in both years, due to the COVID-19 crisis, mandatory teleworking and restaurant closures. Many plastic items were distributed to food and catering outlets during this period, resulting in a deterioration of the recycling rate.
In December 2020, an additional post-sorting system for incinerable waste was introduced. The recycling rate in 2021 improved to about 50%.
Mask recycling
In August 2021, collection and recycling bins for surgical masks and FFP2 were deployed within the platform. Once full, they were to a dedicated recycling centre. The masks were then transformed into polypropylene granules. They then become a raw material that can be used to manufacture plastic objects, for example. In five months, almost 7,000 masks were collected.